The following article was featured in Livewire on May 24, 2022.
In times of extreme market volatility, it can be useful to refer back to the prominent former mutual fund manager Peter Lynch, who observed that the secret to making returns in the market is to not be scared out of it.
That said, the severity of the current market drawdown is certainly nothing to sneeze at, with the S&P 500 declining 8.8% in the month of April alone. The losses have been even more pronounced among shares of technology companies with the tech-heavy Nasdaq posting a 13.3% loss for the month, marking its worst monthly return since the Global Financial Crisis in 2008.
However, it's important to remember that while extreme bouts of volatility might unnerve short-term speculators, for the long-term investor, periods of panic provide opportunity.
We believe today represents a rare opportunity to buy some of the world's most attractive businesses that exhibit clear market leadership, superior underlying economics and growth potential, and clean balance sheets.
Visa is one such example.
Visa (NYSE: V) – Still growing amidst the uncertainty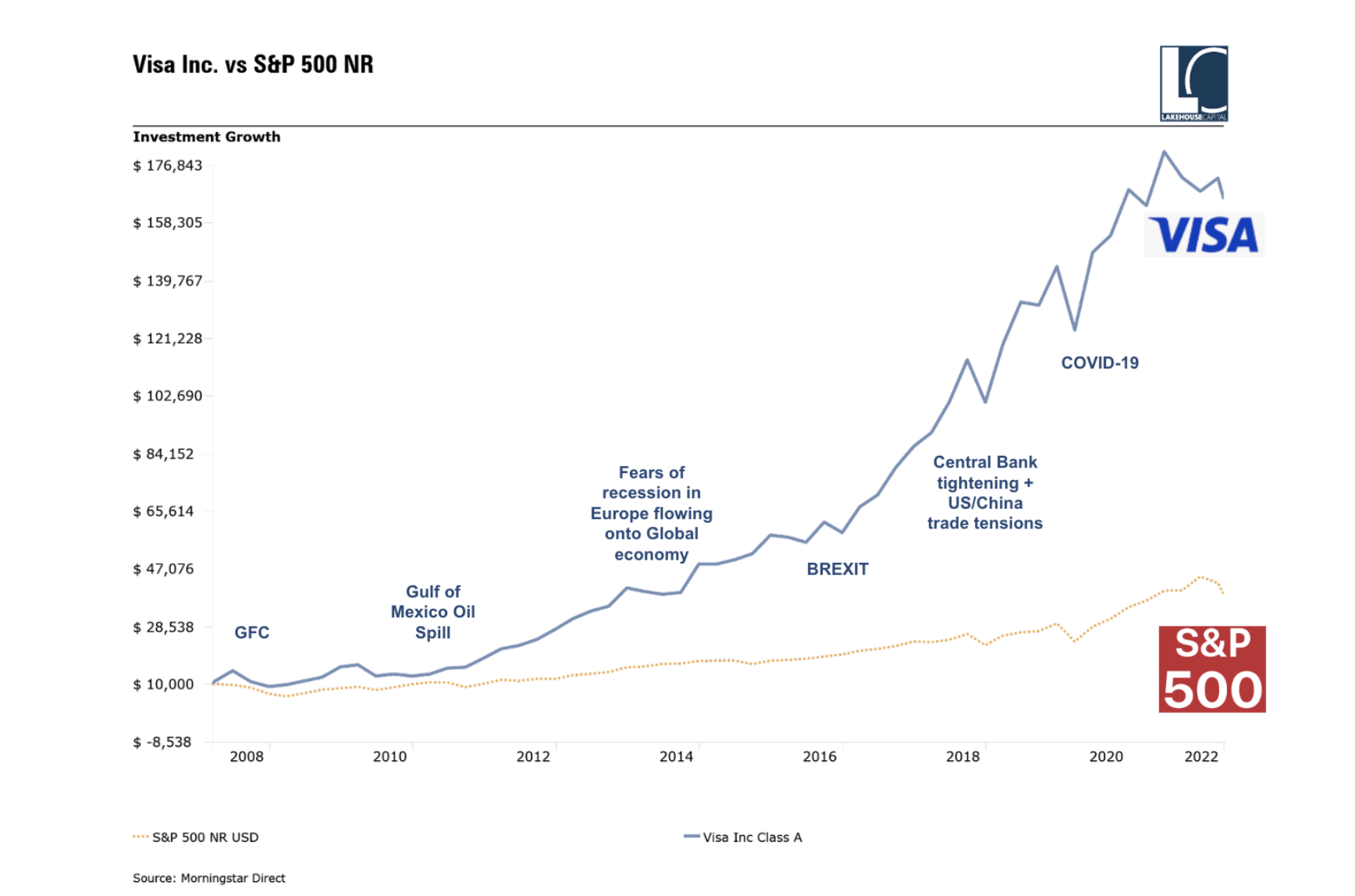 Visa stands on the promise to empower the world to transact and if the company's latest results are any indication, they are clearly delivering on that promise.
Looking at the most recent quarterly result, Visa's revenue increased 25% to $7.2 billion and net income was up an impressive 21% to $3.6 billion.
The primary driver continues to be the broad-based reopening of economies around the world and the acceleration in international travel. Payments volume grew 17% and cross-border transactions rose 38% (47% excluding intra-Europe). As always, the company remains focused on building out its network.
On the consumer side, card credentials increased 9% to more than 3.9 billion cards, and on the merchant side, more than 100 million merchant locations now accept Visa cards (including small businesses using platforms such as Stripe and Square).
Company management also recently reinforced two key competitive opportunities. First, in cash displacement, where year-over-year debit and credit payment transactions increased by 7.9 billion and cash transactions decreased by 16 million. Second, in the crypto space, where Visa's specialised global crypto advisory practice, launched in the first quarter of this year, now boasts committed engagements with 30 clients. Furthermore, Visa is working with global governments to enable new ways to pay with cryptocurrencies through potential Central Bank Digital Currencies.
Over the past sixty odd years Visa has successfully overcome numerous macroeconomic challenges that in the moment appeared insurmountable. We believe this current episode will prove no different and that the combination of a very attractive industry structure and the ongoing secular shift towards digital payments provides a foundation that will enable Visa to continue winning for many years to come.
Nick Thomson is the Portfolio Manager of the Lakehouse Global Growth Fund. This article contains general investment information only (under AFSL 526842) and has been prepared without taking into account the reader's financial situation. The Lakehouse Global Growth Fund owns shares in Visa.