The following article was featured in Livewire on August 16, 2023.
The knock is that it is overpriced, but people said the same thing about CSL.
When I was a portfolio manager – in a previous life – I rated this stock highly. With a father as a GP, who taught me the power of the technology the company had developed, I was an early adopter.
There have been many critics of the stock along the way, most of whom claim it is overvalued – and by traditional valuation metrics would say it still is.
But if you want access to an exceptional company, with leading technology, a dominant market position, a dearth of competitors, and new levers to pull to fuel growth, then you generally need to be willing to pay an exceptional price.
The stock is none other than healthcare technology company Pro Medicus, a provider of software and services to the healthcare industry, with a focus on medical imaging and information management.
As for the view about it being a solid company, Donny Buchanan from Lakehouse Capital agrees;
It's an exceptional business that continues to execute very well, take share in a large and growing market, benefit from cloud adoption and it's racing toward unlocking additional annuity streams.
In this wire, Buchanan unpacks PME's latest results and outlook.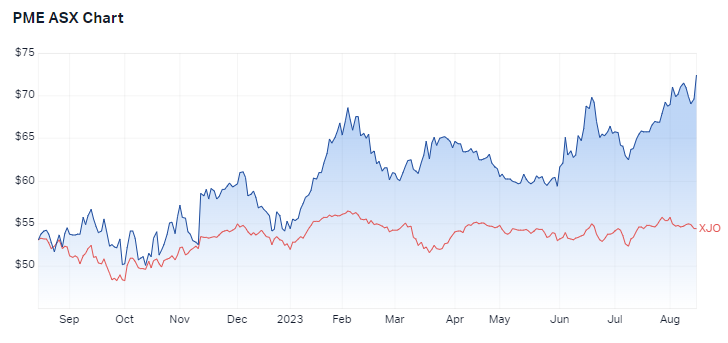 Note: this interview took place on Tuesday 15 August 2023. PME is a holding in the Lakehouse Small Companies Fund. 

Pro Medicus (PME) full-year key results
FY NPAT A$60.6 million (+36.5%)

Revenue A$124.9 million (+33.6%)

Pretax income A$86.1 million

Final dividend 17cps, fully franked

Record 7-Sep, payable 28-Sep
Key company data for PME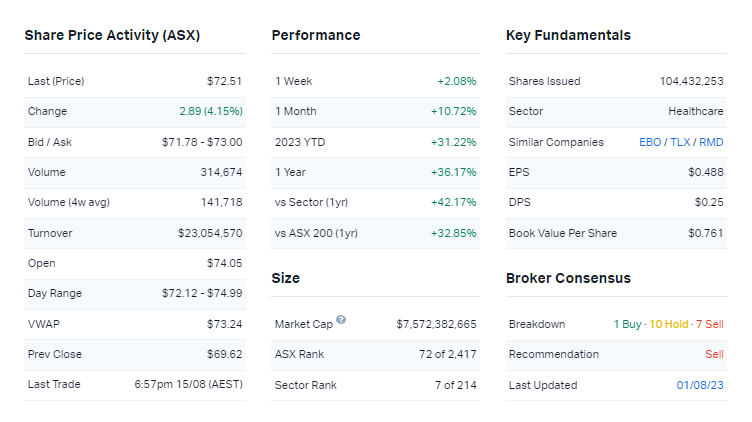 In one sentence, what was the key takeaway from this result?
It's an exceptional business that continues to execute very well, take share in a large and growing market, benefit from cloud adoption and it's racing toward unlocking additional annuity streams.
PME closed up more than 4% on the day. In your view, was it an overreaction, an under-reaction, or appropriate?
Rating: Appropriate
I do [think the share price pop was appropriate], given the financials landed slightly ahead of consensus and there's increasing visibility on the commercialisation of add-on products to the viewer platform.
The company's been working on this for a long time and they've got a tremendous execution track record. So I think the stock deserves a little bit of a lift on that increased visibility.
Were there any major surprises in this result that you think investors should be aware of?
I'd come back to Sam's [PME CEO Dr. Sam Aaron Hupert] comments targeting commercialisation of AI and other ologies within the next six months. Sam's not one to give too much away, at the best of times, so him making that statement carries weight.
On the earnings call, Sam mentioned having reference sites in place in the next few months.
They've dedicated resources to these areas, they've put plenty of money into it, and I'm really excited to see it come to the fore.
Cardiology, breast screening, and ophthalmology have been indicated to be added to the viewer platform, and will be sold as add-on product. The company has put a lot behind developing AI and other ologies for a number of years. We'll be following closely and look forward to learning more soon.
Would you buy, hold or sell PME on the back of these results?
Rating: HOLD
I think the business is at an exciting juncture, but it's challenging to size the cash flow impact of adding these new revenue streams to the platform. Given the already high conventional valuation, it would be prudent to wait until the impacts of that commercialisation are observable rather than trying to predict them with the limited information available today.
But based on management's track record, strong operating leverage in the business, and the existing reach of the platform, I'm optimistic about the range of outcomes.
What's your outlook on PME and its sector over the year ahead? Are there any risks to this company and its sector that investors should be aware of?
I'd say healthcare is resilient relative to many other sectors. Add to this, the fact that Pro Medicus are incredibly well capitalised with over $120 million in net cash, and no debt (so rising interest rates are incrementally positive for them). Fundamentally, at the business level, they have a market-leading product. They're taking share in a market that's growing above GDP, the shift to the cloud remains a huge strategic advantage for them, as does the shrinking pool of radiologists that need to use the market-leading product to improve their productivity.
So they continue to win clients across the spectrum and add to this the latent pricing that we talked about, it's a huge and growing addressable market still.
You asked about risks. We don't see any competitors close to their current cloud offering, but that remains a key risk and area of focus. There's a big and growing market for them to go after and the stock really trades off the back of these lumpy contract wins. So I guess if we go for an extended period without any announced contract wins, we've seen in the past that the stock can go through a bit of a lull, but there's no doubt in the quality of this business and the only knock that I see on it is price.
From 1-5, where 1 is cheap and 5 is expensive, how much value are you seeing on the ASX right now? Are you excited or are you cautious on the market in general?
Rating = 2.5
We're excited about the market.
I would say somewhere in the range of two to three. We've seen some businesses, take SiteMinder for example, which is still in cash burn mode, but it's got good visibility and provided a strong update to the market about that visibility to reach cash flow breakeven and the fundamental growth of the business.
I think that there are some interesting pockets in and around some of those that have been marked down over the last couple of years.
10 most recent director transactions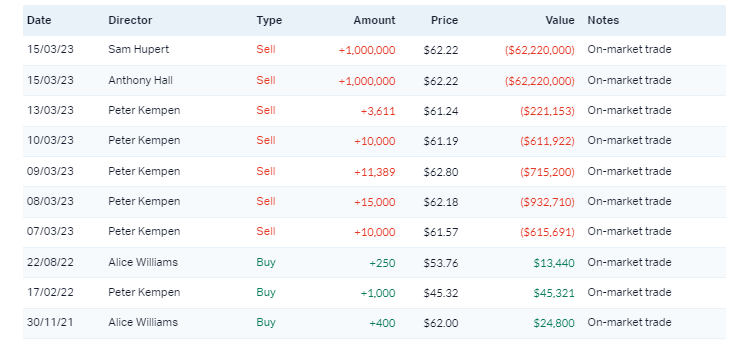 Donny Buchanan is the CIO and Portfolio Manager of the Lakehouse Small Companies Fund. This article contains general investment information only (under AFSL 526842) and has been prepared without taking into account the reader's financial situation. The Lakehouse Small Companies Fund owns shares in Pro Medicus.